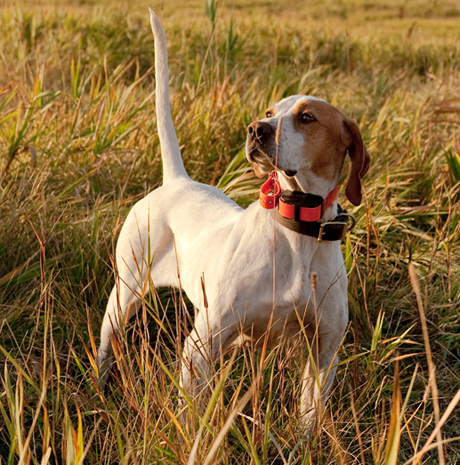 Prancer was a Cadillac.
~ Mark Fouts
With heavy hearts, Jerry and I share the almost unbearably sad new that Northwoods Prancer has died.
Prancer was whelped out of Fallset Fate, owned by Mark and Janie Fouts, by our male Dasher in 2008. In lieu of a stud fee, we wanted a female puppy and as Prancer was the only female in the litter, Mark honored the deal.
Prancer was a star in our kennel—whether in the woods guiding grouse hunters or as a dam. Prancer was also smart and a beautiful dog with a strong physique. We adored Prancer but when she turned six, we gave her back to Mark and Janie in a totally fitting, happy turn of events.
Mark wrote this moving tribute to Prancer.
"With all great dogs they have to start from somewhere. I was fortunate to have a female pointer named Fallset Fate. She was white and orange. She was everything you would want in a hunting dog. Worked to the front, pointed, backed and a strong retriever. She even retrieved from water. She was a joy to handle and had an easy loving personality. A very good family dog, or as I say, a "good citizen."
"I was thinking if I was fortunate to have another dog like her I would be blessed. I had heard of Jerry and Betsy at Northwoods Bird Dogs and their breeding program. I was told about Dasher and thought this would be a good fit. We decided on the breeding and waited for the results. Fate had only four puppies, three males and one female. The little orange and white female looked like her mother. She was chosen to join the Northwoods kennel.
"When Jerry and Betsy retired Prancer from their breeding program Janie and I were fortunate and gifted to get her back to our family. When she arrived it was like looking at her mother Fate. The look in her eyes, same personality. I always wonder if dogs know that they used to be at a home or kennel in their earlier lives. She adjusted well. She was instantly part of our family. I can't recall how many times I called her "Fate" while I was hunting with her.
"I have had other breeds of dogs and had some very good ones, but you know when a breed and style suits you. I like to put it in simple laymen terms. Everyone drives different vehicles. They all get you to the same location. But I have settled on driving a Cadillac. They are smooth, easy to look at, and with a little polish they hold their value. Prancer was a Cadillac.
"In the field she was a truly honest dog. If she had a point there was a bird somewhere, trust her. Jerry and Betsy brought out the best in her and she was able to pass those traits on to her offspring. Right now I have two dogs from Prancer, Northwoods Fallset Timber and Northwoods Fallset Jordy. The fleet of Cadillacs is still going strong.
"When you lose a dog like Prancer I think you miss a little heartbeat. Sometimes it is hard to get your breath back when it happens. With wet eyes you have to remember the good times and the love that they give back unconditionally, no strings attached.
"Thank you to Northwoods Bird Dogs for letting your family be a part of ours."
~ Mark Fouts