The key to the training programs and success of Northwoods Bird Dogs is extensive exposure to wild birds. Currently Jerry and Betsy offer opportunities in Minnesota, Wisconsin, North Dakota and Georgia.
Right out the kennel door, Jerry has access to more than 2,000 acres of ground where training takes place with pigeons and wild-acting bobwhite quail. Within a short distance are thousands of additional acres of public and private land that include excellent habitat for native populations of ruffed grouse, woodcock and sharp-tailed grouse.
For more than 20 years, Jerry has shared a hunting camp in North Dakota with his good friend Frank LaNasa, a successful amateur field trial competitor on the horseback shooting dog circuit. On long weekends in late summer, the two train off horseback in the vast rolling pastures that hold sharp-tailed grouse, Hungarian partridge and pheasant. Jerry takes a select group of young dogs for this special training opportunity.
In mid November, Jerry and Betsy move to Thomasville, Georgia, which is the heart of the venerable tradition of quail plantations. They rent a small cottage on a 600-acre plantation, complete with a 30-dog kennel and training opportunities on both wild and released bobwhites.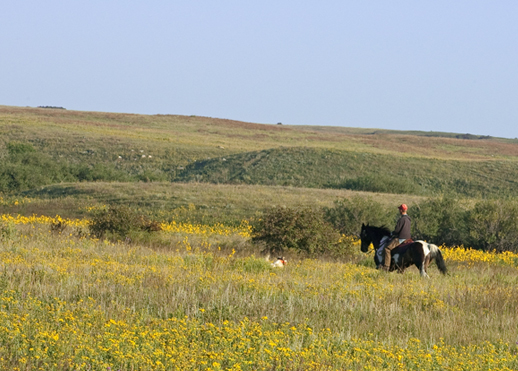 During late summer, Jerry trains off horseback at a camp in  in North Dakota. Plentiful wild birds–sharp-tailed grouse, pheasants and Hungarian partridge–provide excellent training opportunities.