Northwoods Bird Dogs offers dogs for sale from their top quality English setter and pointer breeding program. These dogs have been handpicked from select litters and kept for development and training. They are dogs that have it all—talent in the field, excellent physical conformation, superior instincts, intelligence and wonderful temperaments.
Dogs are priced according to their level of development and training.
All Started, Trained and Seasoned Grouse dogs for 2015 have been sold, including the dogs listed below. Other dogs might be available. Please contact Jerry and Betsy for more information.

NW Smooch   Pointer, whelped April 21, 2013, White, Orange & Ticked    SOLD
CH Elhew G Force x Northwoods Vixen Pedigree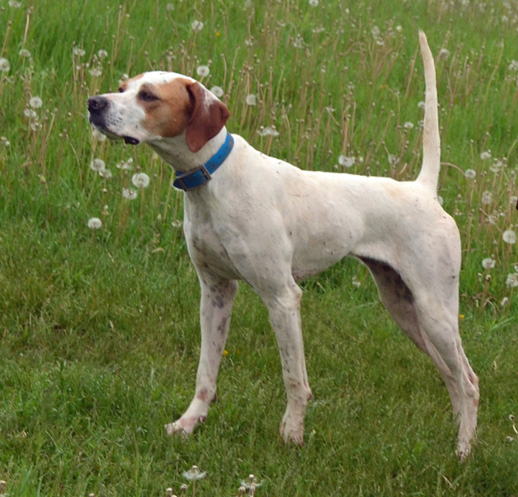 Smooch is a dream bird dog! She is hard-hunting, intense, high on both ends and an outstanding wild bird finder no matter the bird. She's had ample training and experience…..and she is stunning with dark eyes and nose.
Smooch is steady to wing and shotgun, backs and is a soft-mouthed retriever. She's had two winters on bobwhite quail in Georgia and training on the prairie and in the grouse woods. Smooch is successful in grouse trial competition, too, with several placements, including winning a derby stake as a puppy.
Equally important, Smooch has a want-to-please attitude and a very friendly disposition. She loves people and gets along well with any dog.
Smooch is a Trained Dog.

Houston's Poinsettia   Setter, whelped August 8, 2014, White, Black, Tan & Ticked    SOLD
Nat. CH Shadow Oak Bo x Northwoods Chardonnay Pedigree
For a serious bird hunter with little time or inclination for dog training, then Poinsettia (Holly) is an ideal dog. In the field, Holly handles easily and points staunchly and yet shows the style of her field champion sire. Too, she knows all important field commands. She is only one year old but has already found more birds than most hunting dogs will encounter in several seasons.
When she's not in the field, Holly has a gentle, calm and affectionate disposition.
Finally, the word that best describes Holly is easy—easy to hunt, easy to live with and easy to look at. All that's left is to take her hunting.
Holly is a Started Dog.

Northwoods Gold   Setter, whelped August 8, 2014    SOLD
Nat. CH Shadow Oak Bo x Northwoods Chardonnay Pedigree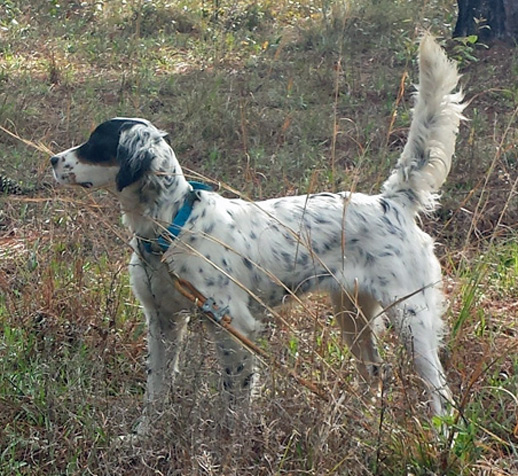 Gold is an even-marked, tricolor female that currently weighs 37 lbs. She has a friendly, gentle disposition and is well socialized with people and dogs. She is calm and clean in the kennel. Gold is intelligent and has a want-to-please attitude. She is stylish in motion with an easy, all-day gait. She hits her birds hard, is extremely intense on point and very staunch for her age. She handles easily in the field and displays comfortable foot-hunting range.
Gold has been into dozens of liberated and wild bobwhite quail in Georgia. She has pointed a fair share and backed on her own. Gold knows Whoa in the yard both verbally and with ecollar stimulation. She is ecollar conditioned on both neck and flank. She shows a natural inclination to retrieve.
Gold has traveled, spent time on a stake-out chain and knows basic commands such as Here, Kennel, Whoa and Find It. She knows how to hunt wild birds and shows she has the instincts and trainability to move to the next level of training and the disposition to be a special companion as well.
Gold is a Started Dog.