Northwoods Bird Dogs offers dogs for sale from their top quality English setter and pointer breeding program. These dogs have been handpicked from select litters and kept for development and training. They are dogs that have it all—talent in the field, excellent physical conformation, superior instincts, intelligence and wonderful temperaments.
The dogs are priced according to their level of development and training.
Several young dogs from 2014 litters are being trained in Georgia this winter and some will be for sale after the season. Other dogs might be available, also. Please contact Jerry and Betsy for more information.

NW Smooch   Pointer, whelped April 21, 2013
CH Elhew G Force x Northwoods Vixen Pedigree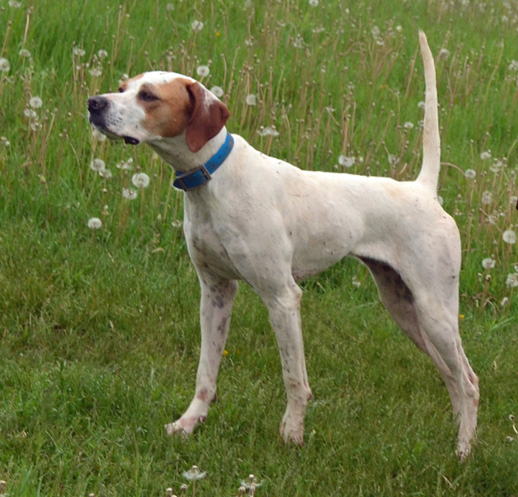 Smooch is an evenly masked, dark orange and white female. She weights 42 lbs., and is leggy and strong. She has a friendly, playful disposition and is a character around the kennel. Smooch is well socialized with people and gets along with any dog. She is calm and clean in the kennel and rarely barks. She is intelligent and has a want-to-please attitude. She handles well at a medium range with just enough independence to make her an outstanding bird-finder. Smooch has an easy gait with a high, straight tail whether in motion or on point. She points with intensity and is extremely honest on her game.
Smooch has extensive exposure to birds. She spent two winters in Georgia working wild and released bobwhite quail and one month in North Dakota on sharp-tailed grouse. In addition she was hunted on ruffed grouse and woodcock last fall. She has been used on wild and liberated quail hunts and hunted from foot, jeep and horseback. Smooch shows a natural inclination to retrieve when given a chance. She has several placements in grouse and woodcock field trials, too.
Smooch has traveled, spent time on a stake-out chain, been conditioned from a four-wheeler and knows basic commands such as Here, Kennel, Whoa, Heel and Find It. She is ecollar conditioned on both neck and flank. She backs and is steady to wing and shotgun.
Smooch is a Trained Dog. With maturity and consistent work, her potential is unlimited. Please contact Jerry and Betsy for pricing.