Northwoods Bird Dogs offers dogs for sale from their top quality English setter and pointer breeding program. The prospects have been handpicked from select litters and kept for development and training. These dogs have it all—talent in the field, physical conformation, instincts, intelligence and wonderful temperaments.
Dogs are priced according to their level of development and training.
Listed below are dogs for sale in 2016. Please contact Jerry and Betsy for more information.

Northwoods Platinum   Pointer, whelped May 5, 2014, White, Orange & Ticked                          Elhew G Force x Northwoods Prancer   Pedigree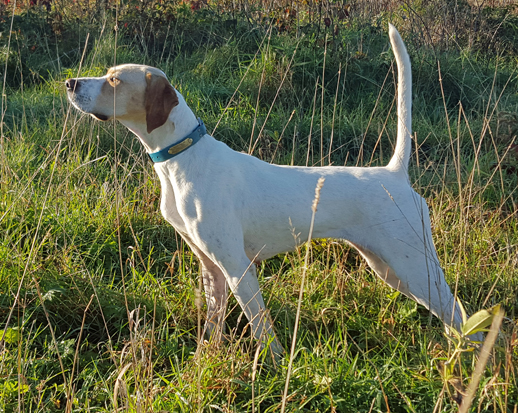 Platinum (PT) is a beautiful, evenly masked female with dark nose and eyes. She has a strong, robust build and weighs 46 lbs. PT is sharp and has a happy, easygoing disposition and gets along well with people and others dogs. She is calm and clean in the kennel and rarely barks…except at feeding time!
PT is a polished young dog that runs and points with style. She requires very little direction in the field and hunts at a close-to-medium range. She is steady to wing and shot, will stop-to-flush, backs another dog on point and retrieves. PT has had two falls on grouse and woodcock and two winters on Georgia quail as well as experience on sharp-tailed grouse. In other words, she knows how to find birds!
PT has traveled, spent time on a stake-out chain and knows basic commands such as Whoa, Here, Kennel and Find It.
PT is fully trained and already has lots of wild bird experience. In addition, she has the temperament and intelligence to be a special companion. She is currently being worked on grouse and woodcock in preparation for the fall.
PT is a delightful, classy, talented and wonderfully bred young pointer. She is a Trained Dog. Please contact Jerry and Betsy for more information.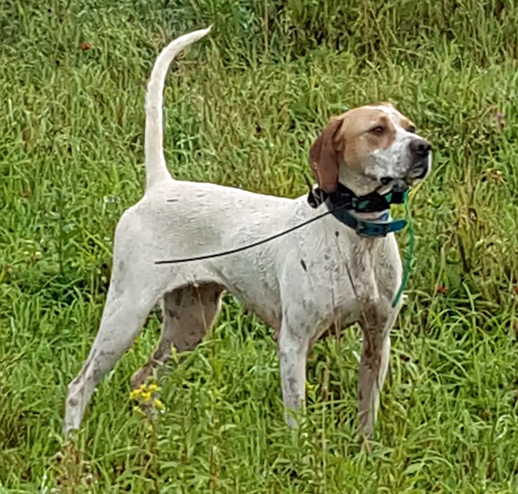 Northwoods Taconite   Setter, whelped February 8, 2016, White, Black & Ticked    SOLD            Sunny Hill Sam x Northwoods Carly Simon    Pedigree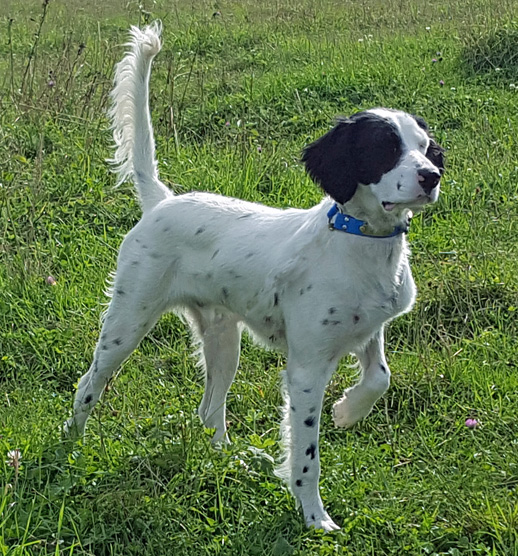 Northwoods Fendi   Setter, whelped April 15, 2015, White, Black, Tan & Ticked   SOLD         Erin's Hidden Shamrock x Northwoods Chardonnay   Pedigree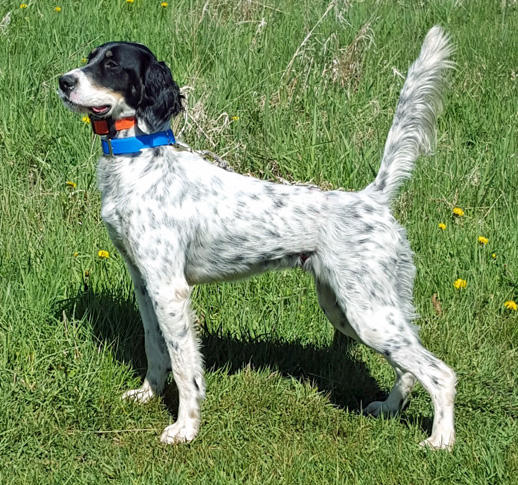 Northwoods Prada   Setter, whelped March 15, 2015, White, Black, Tan & Ticked   SOLD        Northwoods Grits x Northwoods Carly Simon   Pedigree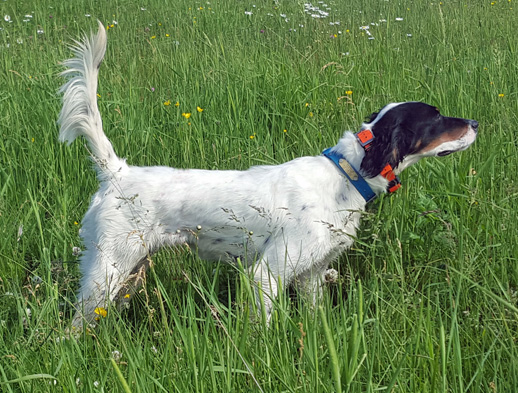 Northwoods Mercury   Setter, whelped August 12, 2014, White, Black, Tan & Ticked   SOLD   Northwoods Parmigiano x Northwoods Rum Rickey   Pedigree