Northwoods Bird Dogs offers dogs for sale from their top quality English setter and pointer breeding program. These dogs have been handpicked from select litters and kept for development and training. They are dogs that have it all—excellent physical conformation, superior instincts, intelligence and wonderful temperaments.
The dogs are priced according to their level of development and training.
There may be other dogs for sale that are not listed. Please contact Jerry and Betsy for the most current information.

Northwoods Ferrari  Setter female whelped March 29, 2013. SOLD
CH Ridge Creek Cody x Northwoods Chardonnay Pedigree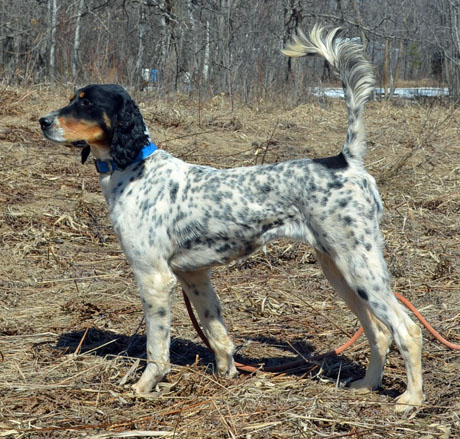 Ferrari (call name Rae) is a well-built, solid headed, tri-color female. She currently weighs 43 lbs. She has a friendly disposition and is well socialized with people and dogs. She is good in the kennel and calm when not being worked. Rae has a want-to-please attitude that is a pleasure to work with. She has an easy, long stride and is attractive in motion.
Rae has been into hundreds of liberated and wild bobwhite quail in Georgia. Last fall she was hunted on ruffed grouse and woodcock in Minnesota. Rae is polished on Whoa in the yard both verbally and with ecollar stimulation. She is ecollar conditioned on both neck and flank.
Rae has traveled, spent time on a stake-out chain and knows basic commands such as Here, Kennel, Whoa and Find It. She knows how to hunt wild birds and shows she has the instincts and trainability to move to the next level of training. Her preliminary OFA hip report is Good.
Rae is a started dog. Please contact Jerry and Betsy for further details.

Northwoods Lexus  Pointer female whelped April 21, 2013.  SOLD
CH Elhew G Force x Northwoods Vixen Pedigree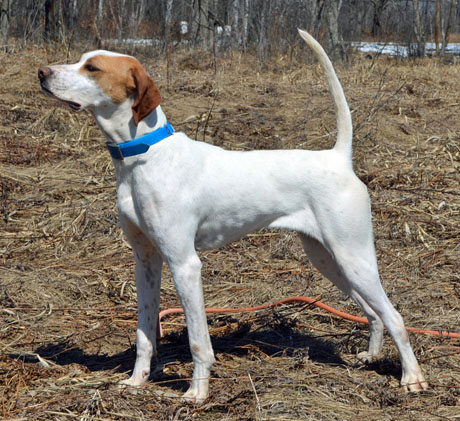 Northwoods Chardonnay  Setter female whelped January 5, 2009.  SOLD
Blue Shaquille x Houston's Belle's Choice Pedigree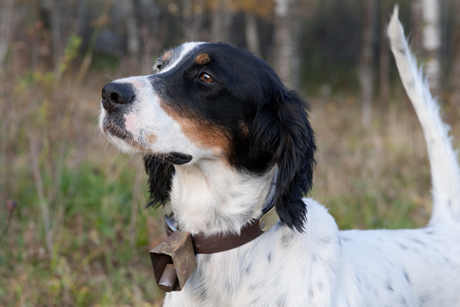 Northwoods Rolls Royce  Setter male whelped April 5, 2013.  SOLD
Blue Shaquille x Houston's Belle's Choice Pedigree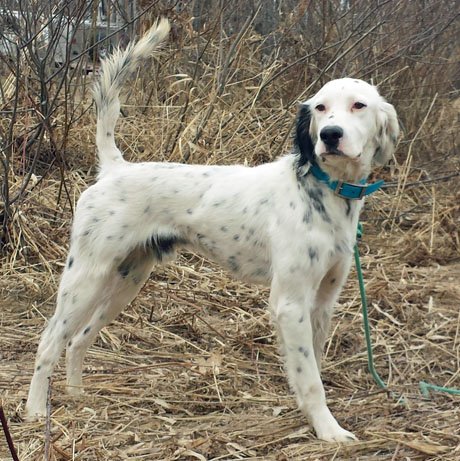 Northwoods Audi  Pointer female whelped April 21, 2013. SOLD
CH Elhew G Force x Northwoods Vixen Pedigree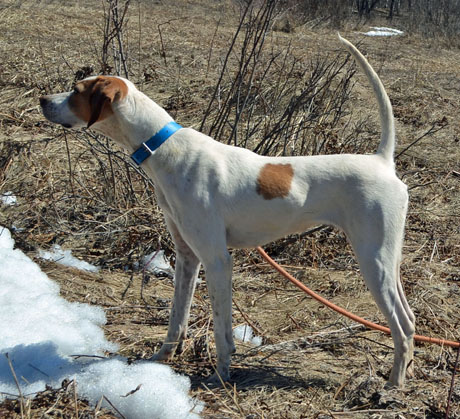 Northwoods Mercedes Setter female whelped May 28, 2013.  SOLD
CH Houston's Blackjack x Northwoods Chablis Pedigree