Northwoods Bird Dogs offers dogs for sale from their top quality English setter and pointer breeding program. These dogs have been handpicked from select litters and kept for development and training. They are dogs that have it all—talent in the field, excellent physical conformation, superior instincts, intelligence and wonderful temperaments.
Dogs are priced according to their level of development and training.
Listed below is the first 2016 dog for sale. Other dogs will be available. Please contact Jerry and Betsy for more information.

Northoods Mercury   Setter, whelped August 12, 2014, White, Black, Tan & Ticked   SOLD

Northwoods Parmigiano x Northwoods Rum Rickey Pedigree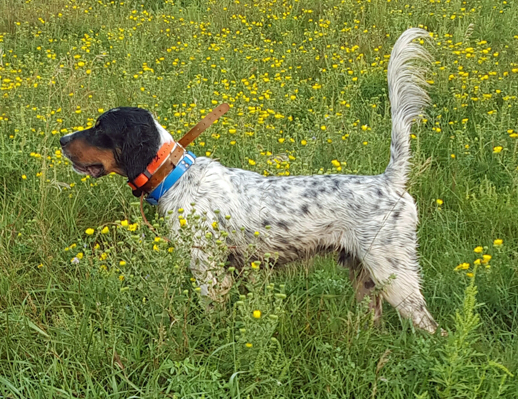 Merc is a super talented young prospect! He is a handsome, evenly marked tricolor that currently weighs 53 lbs. He has a friendly, energetic disposition and is "all boy." He is well socialized and gets along with people and dogs. Merc is intelligent and has a want-to-please attitude. He carries himself well and is lofty and high-headed in motion with an easy, all-day gait. He is a strong bird-finder that handles easily at a close-to-medium range.
Merc has been into lots of wild birds including bobwhite quail in Georgia and sharp-tailed grouse, ruffed grouse and woodcock in Minnesota. He sailed through the Northwoods Bird Dogs Gun Dog Basics training, is ecollar conditioned on both neck and flank and shows a natural inclination to retrieve. He is currently pointing most of his birds to flush and shot.
Merc has traveled, spent time on a stake-out chain and knows basic commands such as Here, Kennel, Quiet, Whoa and Find It. He knows how to hunt wild birds and shows he has the instincts and trainability to be an outstanding wild bird dog and the disposition to be a special companion as well. Merc has an OFA preliminary consultation report of Good.
Merc is a young dog that has had an incredible amount of work for his age. He has all the tools to be a brag hunting dog when he matures. He is a Started Dog and priced at $3,500.