Northwoods Bird Dogs is now producing the seventh generation of English setters and fifth generation of pointers. Jerry and Betsy are committed to producing top quality dogs from the best dams and sires in the country. They strive for puppies that have it all—excellent physical conformation, superior instincts, intelligence and wonderful dispositions. With proper environment and training, their puppies will mature into outstanding dogs, whether in the woods, fields or in the home.
A limited number of litters is planned each year. Some puppies are available for sale while others will be owned and trained by Northwoods Bird Dogs.

2X National Champion Shadow Oak Bo x Northwoods Chardonnay
Pedigree
In her three litters, Chardonnay has produced outstanding, talented bird dogs including horseback winner and popular sire, Northwoods Nirvana. Chardonnay was recently acquired by Dr. Paul Hauge. Together with Jerry and Betsy, Paul decided to breed her to the best setter to come along in many years, Shadow Oak Bo.
Shadow Oak Bo won the prestigious National Championship back-to-back in 2012 and 2013. He was the first setter to win the trial in 43 years. Bo accomplished these feats using his outstanding stamina and uncommon ability to find and point birds. Bo is a handsome orange-and-white setter that weighs about 52 lbs.
Northwoods Chardonnay is a leggy, 40-lb., dog with a beautiful head and uncommon markings. She is a strong bird finder and naturally backs. Chardonnay has a long stride that easily carries her over the ground and a style in motion that is both exuberant and exciting. For full details about Chardonnay, please view Current Generation Females.
Chardonnay whelped five females and three males on August 8. The litter is reserved.


Northwoods Parmigiano x Northwoods Rum Rickey
Pedigree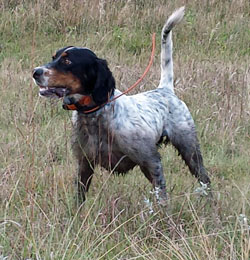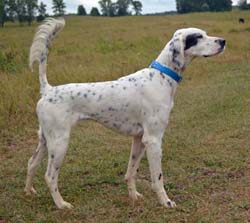 This is a first-time breeding for these outstanding young dogs. Both are hard hunting, strong bird finders that display the ultimate characteristics in a wild bird dog.
Northwoods Parmigiano (Sean) is a 48 lb., tri-color with a solid head. He is compact, leggy and strong. Sean is a "10" in motion with his lofty style and driving, effortless gait. His posture and intensity on point is electric and he will have the bird accurately located. He is a bold, tough dog in the field but has a kind disposition. He has pointed wild birds on the prairie, in the grouse woods and in the piney woods of Georgia. He is a natural backer and a soft-mouthed retriever.
As a derby-aged dog, Sean won derby and shooting dog stakes in the grouse woods. He's also placed in horseback trials and shooting dog grouse stakes. Sean is owned by Paul Hauge.

Northwoods Rum Rickey is an athletic, 37-lb., dog with a square head and lightly ticked body. Like all the breeding dogs of Northwoods Bird Dogs, she is hunted and has proven to be a strong bird finder that naturally backs. Rickey has a beautiful, easy gait and is a close-working, easy-to-handle dog. The intensity she exhibits—whether pointing or backing—is uncommon. And when she points, the bird is right where she indicates.
Rickey whelped three females and one male on August 12. The litter is reserved.

Northwoods Grits x CH I'm Blue Gert 
Pedigree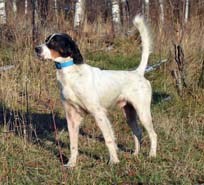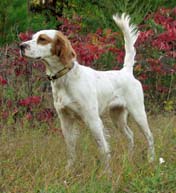 Gert whelped three females on July 11. The litter is reserved.


Blue Riptide x Northwoods Carly Simon 
Pedigree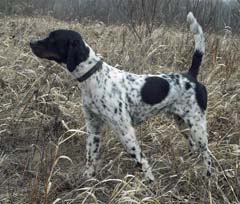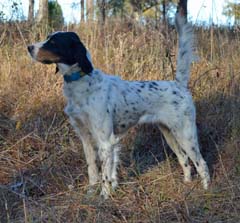 Carly whelped six females and two males on June 24. The litter is reserved.


Puppy Slideshow: