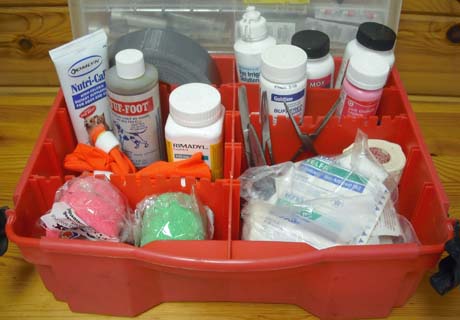 Even though the cupboard in our kennel office has shelves full of pills, bottles, solutions and salves, Jerry keeps his traveling first aid kit to about two dozen supplies. Whether he's training, hunting or guiding, this red box (a fishing tackle box) is always handy. Over the years, Jerry has performed countless field dressing and stapling jobs which, not only help the dog in need, but speed recovery and reduce long-term complications.
Listed below are the general supplies and the field supplies Jerry considers essential for his traveling first aid kit.
General Supplies
Amoxicillin:  general antibiotic
Benadryl:  allergic reactions
Buffered aspirin:  pain
Duct tape (of course!)
Metronidazole:  giardia
Pepto Bismol:  diarrhea
Q-tips
Rimadyl:  anti-inflammatory (by vet prescription only)
Thermometer
Vaseline
Field Supplies
Betadine:  liquid disinfectant
Dog Booties:   protect pads
EMT Gel:  use on cuts, tips of tails
Eye wash (sterile):  flushes out seeds and other debris
Gauze
Nutri-cal:  quick supplement for low blood sugar, weakness
Scissors
Stapler
Tape
Triple antibiotic ointment:  prevents infection and provides temporary pain relief due to cuts, scraps and burns
Triple antibiotic ophthalmic ointment (non-steroidal):  works for minor eye irritations but not scratches
Tuf-Foot:  heals and toughens pads
Vet wrap
Many of the supplies are the same that people use and so are easily purchased. We also buy certain supplies from our vet, including the prescription-only Rimadyl. Otherwise, we order from catalogs such as Lambert Vet Supply and Lion Country Supply.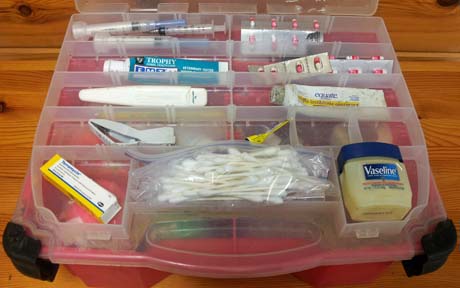 Comments