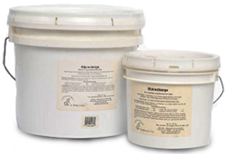 Betsy and I get many inquiries about how we feed dogs to keep them healthy and in good shape. Feeding properly requires attention throughout the year but, especially now with the fall hunting season looming, a healthy dog is imperative. If your dog is overweight, the physical exercise will be hard on bones and joints and will cause premature fatigue. An underweight dog, on the other hand, will not have necessary reserves for endurance and will lack resistance to fight off maladies.
Feeding your hunting dog properly takes time and effort. Betsy and I practice what we preach and manage our dogs' feeding programs as described below. This has worked exceptionally well for us for more than 15 years and we're certain it will work for you, too.
Feed a premium quality food.
Reams have been written about various dog foods and it all boils down to one simple statement. Your dog is what it eats. Good dog food is balanced and nutritionally complete and is made with high-quality ingredients. Companies such as Nestle-Purina have done decades of study and research in formulating their foods and the price is worth it.
Feed the right amount at the right time.
Determining how much to feed your dog is an art that will take time and attention. Recommended feeding amounts on dog food bags are good places to start but are merely guidelines. Find out your dog's body condition and then take into account its current activity level. Then, it's simple:  if your dog is too heavy, reduce the portion; too light, increase it.
This brings me to another important point: Your dog should eat when you feed it. If your dog is a finicky eater and needs some enticement, try these two tricks. Add warm water and stir until a thin gravy forms. Or mix a spoonful or two of canned dog food into the bowl but then reduce the amount of dry food accordingly.
As with most things in life, timing is crucial. Nestle-Purina has conducted thorough research and their most up-to-date information on when to feed your dog is once per day. Studies show that dogs fed 24 hours before exercise had almost twice the endurance as dogs fed just 12 hours before. Nestle-Purina recommends these guidelines:
— Feed your dog 24 hours before hunting for optimum performance. Minimum time is 12 hours before.
— Feed your dog 40 – 60 minutes after it is done hunting for the day.
Use a glycogen replacement when working your dog hard.
Glycogen is one of the first forms of energy used by the working dog. Studies have shown that glycogen stores cannot be replaced in a short period of time and, further, loss of glycogen can have a negative impact on a dog's performance. Dr. Ben J. Character, a veterinarian specializing in sporting dog issues has an excellent article on this topic called Power up: The Role of Glycogen Replacement
We have used glycogen replenishment for years. In addition, many field trial competitors use glycogen supplements for both multiple day trials and consecutive days of hard training. We buy Annamaet Glycocharge from Lion Country Supply.
Comments