Northwoods Bird Dogs is now producing the seventh generation of English setters and fifth generation of pointers. Detailed here are current-generation males that are vital contributors to the breeding program.

Northwoods Blue Ox  Setter, whelped January 2, 2007,  White, Orange & Ticked
CH Peace Dale Duke x Blue Silk  Pedigree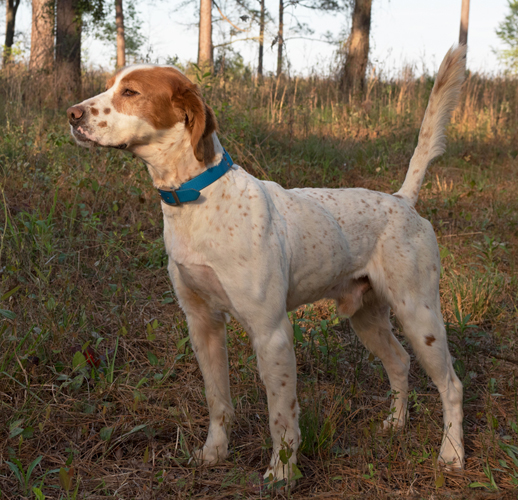 Northwoods Blue Ox is a powerfully built, 50-lb. dog with a strong gait. He has tremendous endurance and is a good warm-weather dog. Ox is fast and hunts hard but will adapt to the cover and handle to the hunter. He is accurate and intense on point, backs and naturally retrieves. He is a strong bird finder with an exceptional nose that has been hunted on ruffed grouse, woodcock, sharp-tailed grouse, pheasants, Mearns quail and bobwhite quail. Ox has a great disposition—calm, sweet and easy-going. He has been a key dog in the grouse guiding string since the age of two.
As a sire, Ox passes his excellent qualities to his offspring and produces talented grouse dogs with drive and desire to find birds.  In addition, he has produced winners of puppy, derby and shooting dog stakes in cover and horseback field trials.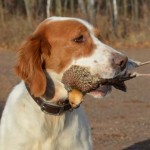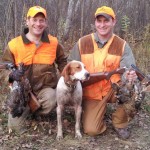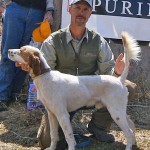 Northwoods Grits  Setter, whelped January 1, 2011,  White, Black, Tan & Ticked
Northwoods Blue Ox x Northwoods Chablis Pedigree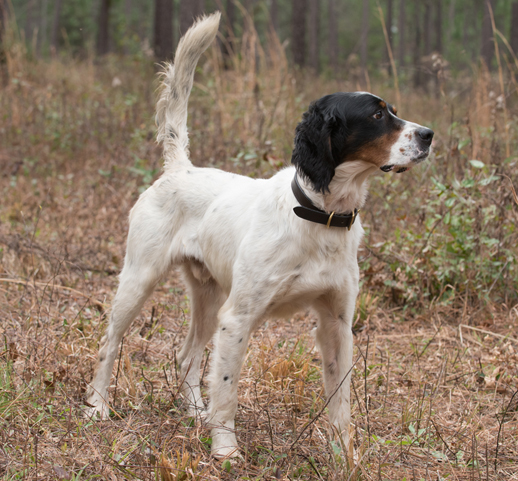 Northwoods Grits has inherited some of the best qualities of the Northwoods Bird Dogs line of setters.  He is leggy and stands 24 inches tall at the withers. Like his sire, Northwoods Blue Ox, he is a powerfully built 50-lb. dog with a strong, easy gait and tremendous endurance. Grits is a hard-hunting dog and absolutely will not quit, even under the toughest conditions. He will run a wide shooting dog race from horseback in open prairie type country, but can choke down and hunt the tightest cover from foot in the grouse woods. Grits has a tremendous nose. He stands lofty and intense on point and will maintain that posture through flush and shot until released.  He naturally backs and sometimes retrieves.
Grits has an eye-appealing way of going and a want-to-please attitude. He is an exceptional wild bird finder and has been hunted in the north woods on ruffed grouse and woodcock; sharp-tailed grouse, pheasants and Hungarian partridge on the prairie; and bobwhite quail in the piney woods of Georgia. Grits has the ultimate disposition—calm, quiet and clean.