Northwoods Bird Dogs is now producing the seventh generation of English setters and fifth generation of pointers. Detailed here are current-generation females that are vital contributors to the breeding program.

Houston's Belle's Choice  Setter, whelped January 16, 2005.  White, Black, Tan & Ticked
Gusty Blue x CH Houston's Belle  Pedigree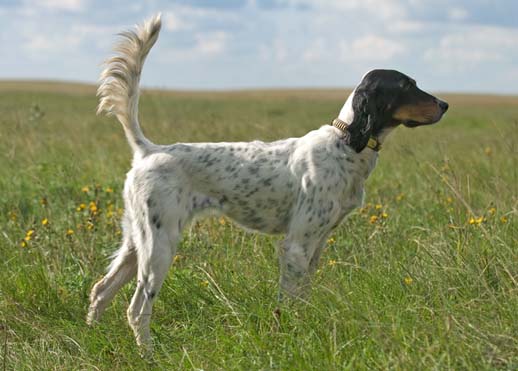 Choice is an athletic, 42-lb., dog with an even mask. She has beautiful style in motion—smooth and strong. Choice points with loftiness and is a natural backer. She has an extensive list of field trial wins but, more importantly, is an excellent grouse hunting dog.  She has extensive experience on grouse—whether hunting with her owner or on Jerry's guide string. She is a sweetheart around the kennel and gets along extremely well with people and her kennel mates. Choice has been bred several times and is a superb producer.

Northwoods Chardonnay  Setter, whelped January 5, 2009.  White, Black, Tan & Ticked
Blue Shaquille x Houston's Belle's Choice  Pedigree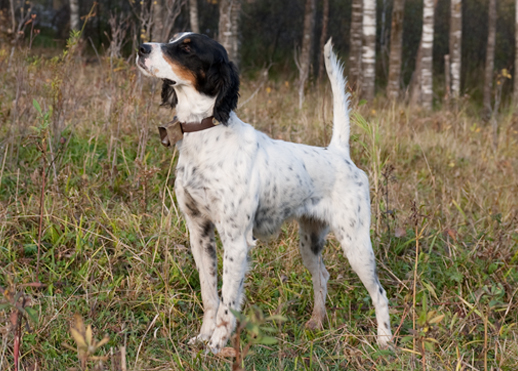 Chardonnay is a leggy, 40-lb., dog with a beautiful head and uncommon markings. She is a strong bird finder, is naturally staunch and backs. Chardonnay has a long stride that easily carries her over the ground and a style in motion that is both exuberant and exciting. Her loftiness on point is breathtaking—whether pointing ruffed grouse, sharp-tailed grouse or woodcock. She placed in every grouse trial she was entered and won the Minnesota/Wisconsin Derby of the Year award in 2011.

Northwoods Chablis  Setter, whelped January 5, 2009.  White, Black, Tan & Ticked
Blue Shaquille x Houston's Belle's Choice  Pedigree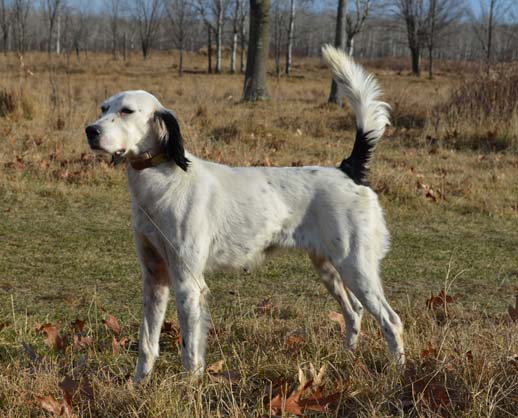 Chablis weighs 38 lbs. and has a mostly white body with a spot at the base of her tail. She has dark, lively eyes and an attractive marking by her right eye. Chablis is owned by a client of Northwoods Bird Dogs who proclaims she is one of his absolute best over ruffed grouse and woodcock. Chablis was early-maturing; she found and handled many ruffed grouse her first season. She hunts hard, handles and is staunch. Chablis is line bred to Houston and inherited his intense style and loftiness on point.

Northwoods Prancer  Pointer, whelped March 22, 2008.  White, Orange & Ticked
Dashaway x Fallset Fate  Pedigree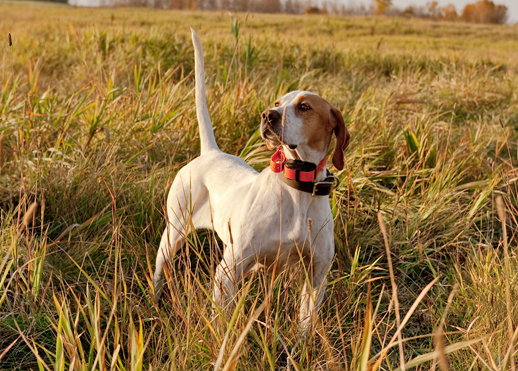 Prancer is a beautiful, 45-lb., dog with a nice head and an even mask. She is very intelligent and has a wonderful disposition. Prancer has a great nose, naturally backs and retrieves to hand. She is impressive to watch with her driving, powerful stride. Prancer is a focused hunter but hunts at a moderate range and handles easily—perfect qualities for a member of Jerry's grouse-guiding string. She is out of Dashaway x Fallset Fate and so comes by her grouse-finding ability naturally. Prancer's first litter by CH Westfall's Black Ice produced eight exceptional females, including Northwoods Vixen, a puppy Jerry and Betsy kept.

Northwoods Vixen  Pointer, whelped April 17, 2011.  White, Orange & Ticked
CH Westfall's Black Ice  x Northwoods Prancer  Pedigree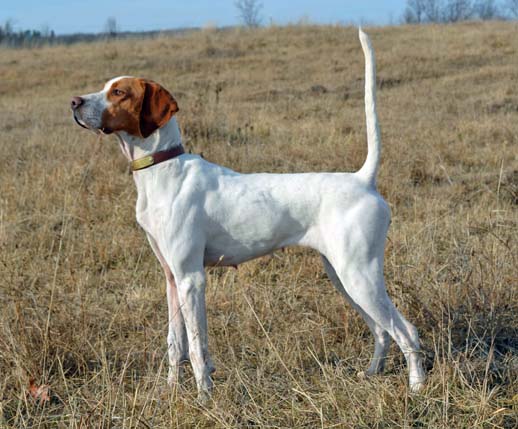 Vixen is a leggy, 40-lb. dog with the sort of intelligence that shines in her eyes. Her coloration is black/orange with a dark nose and eyes. She has an even mask and her body is pure white. Vixen is a dream to have in the house and gets along well with any dog. She is a hard-hunting dog that handles easily, backs naturally and retrieves. She is beautiful to watch in the fields and woods—whether in motion or on point, intense and stylish.  She has pointed wild birds from northern Minnesota to southern Georgia.  Vixen is out of CH Westfall's Black Ice x Northwoods Prancer, a stellar litter of females that are excellent house dogs as well as wild bird dogs.