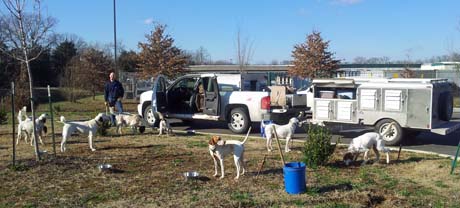 Jerry and I are happy to be in southwest Georgia, near the town of Thomasville and quail plantations galore. The kennels and house are very nice and we're all settling in. The landscape is beautiful with tall loblolly and longleaf pines dominating a rather open understory.
The trip down was smooth and uneventful…..and therefore just about perfect. We had made arrangements for daytime dog stops and evening motel stops. Even though much of the Midwest and virtually all of Illinois are flat, we appreciated easy driving conditions in those areas, especially in comparison to southeastern Tennessee. Outlying ranges of the Appalachians run through the area which makes for winding roads and quite of few grade changes.
The incredibly high volume of trucks—huge tractor/trailer rigs—on the interstates continually amazes us. It is clearly evident that our nation's commerce depends on semis.
Jerry did an excellent job of pairings in the truck dog box and trailer and, luckily enough, we had fairly even numbers of males and females. Two females got to ride alone—Prancer (in season) and Silk (deserves the honor due to her age).
Here's a mini rundown of the trailer-mates:
•    Franny and Manny—perfect together
•    Carly and Tyler—littermates/identical twins from our rock-band-naming theme
•    Liz and Oscar—old pros
•    Trixie & Teeny—win Cutest & Smallest Award
•    Lucy and Gus—win Most Exuberant Award
•    Sally & Tripp—win Sweetest Award
•    Jill & Grits—win Best of Trip Award due to overall excellent behavior
Comments