Maybe Izzie is as sharp as Snoopy and can read. One look into her beautiful, brown eyes does reveal her intelligence and good sensibility.
Izzie has been featured in three recent blog posts and perhaps has glanced over Jeff's shoulder when he powers up his Ipad. She is definitely our poster child for "How to pick a puppy."
November 28, 2012:  How to pick a puppy
"Since at eight weeks of age it's impossible to definitively know what the puppy will become, any puppy should be ideal—no matter the picking order, no matter whether it's the first pick or last."
About two years ago, Jeff was in the market for a puppy and, in exchange for his work with us, we made a deal. He could have the last pick of our Ice x Prancer litter.
November 21, 2012:  Winning wild bird field trial championships
"Even though Izzie is just a derby, I feel compelled to include her because she has all the makings to be a champion."
Izzie was whelped on April 17, 2011 (she is only 20 months old!) and was very successful last fall. In four derby stakes, she won two and twice placed second.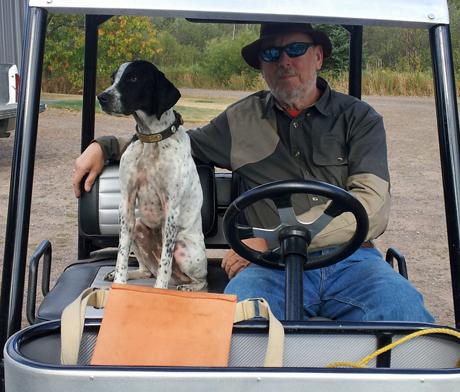 October 8, 2012:  Jeff and Izzie:  An inseparable pair
"Izzie is a sweetheart in the house and a tiger in the field. She was quite precocious and last year Jeff successfully hunted her on grouse, woodcock and the quail of southern Arizona."
Too, Izzie has the genes of a champion. Her sire is Westfall's Black Ice, a five-time champion and seven-time runner-up champion. Out of Northwoods Prancer on the bottom side, her great grandparents were both multiple grouse champions, Brooks Elhew Ranger and Dance Smartly. Rather unusual for a dam, both parents of Dance Smartly were also multiple champions, Northern Dancer and Vanidestine's Rail Lady (a six-time champion!).
But, truly, Jeff deserves all the credit. What any dog becomes depends on how it is raised, developed, handled and trained. Since she was a four-month-old puppy, Izzie has been hunted and worked at least three days a week.
In early January, on the Empire Ranch of Sonoita, Arizona, Izzie was named champion at the Region 12 Amateur Walking Shooting Dog Championship. She ran a strong, forward race and went on point where no dog had gone. At the shot, she stood tall and firm. Amazingly just days before, Izzie had placed third in the horseback derby stake.
Congratulations, Jeff and Izzie! You deserve that big blue ribbon.
Comments