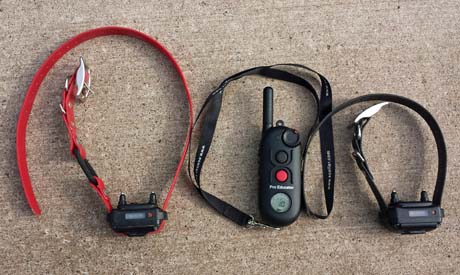 The past couple months, I've been using a PE-900 Pro Educator training collar manufactured by E-Collar Technologies, Inc. I bought a one-dog collar but the PE-900 can be expanded to three dogs and features seven stimulation modes, including momentary and continuous, seven vibrations and four tones.
The cool thing is that these options can be programmed and combined in almost any configuration and can be customized for each dog. There are many other innovations—some quite complicated such as Level Lock and Boost.
For basic training in a defined area, the PE-900 is the best ecollar I've used.
Nice features.
My favorite capability is the patented "Instant" stimulation mode. It lets me use one hand to dial the intensity up and down while training compliance to known commands. The small increments of low-level stimulation help the dog make the right choice without causing the stress of hard corrections. This "Instant" mode can be applied for up to 45 seconds.
Another feature I like is the small size of the receivers. At only 2.4 ounces, they can be used on a very small or young dog.
E-Collar Technologies also improved another issue for me. When training compliance to the Whoa command, I use an e-collar on the dog's flank. The collar must be snug enough to make contact with the skin but not so tight that it restricts movement. The PE-900 has a biothane buckle collar with an elastic bungee incorporated into the strap which allows a good fit with easy expansion and contraction.
Limitations.
The PE-900's range is only ½ mile and I wonder if that could be further limited in dense woods or hilly terrain. Too, since I haven't used the collar under actual hunting conditions I can't vouch for its durability.
E-Collar Technologies is the brainchild of Greg Van Curen, co-founder and former president of Innotek. Another Innotek alum, Kim Westrick, is in charge of sales and customer service.
For more information on the PE-900 and other e-collars made by E-Collar Technologies, visit their website at www.ecollar.com.