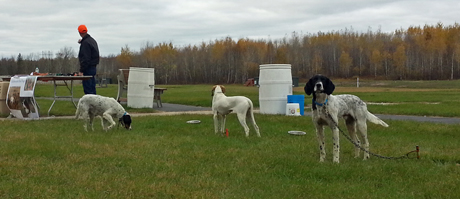 The National Grouse & Woodcock Hunt (NGWH), put on by the Ruffed Grouse Society (RGS), is a big deal. This year, the 35th, began on Tuesday, October 11, and ran for four days. Part get-together/part fund-raiser, it is headquartered at the Sawmill Inn in Grand Rapids, Minnesota.
In addition to plenty of good food, camaraderie and the opportunity to support a worthy organization, NGWH is bird hunter heaven. There is a sporting clays competition, shooting lessons, trap demonstrations and two days of guided hunting competition in the woods of Itasca County.
Jerry and I felt honored to be asked by RGS Director of Member Relations and Outreach Mark Fouts to put on a dog demonstration. So last Wednesday, October 12, we found ourselves at the Grand Rapids Gun Club where the RGS hosted its Outdoor Festival.
Jerry and I brought three dogs that hopefully would behave well and not embarrass us too much:  Northwoods Carly Simon, above on left, pointer Northwoods Platinum and Northwoods Nirvana. Nirvana demanded some attention but the most difficult aspect was the tough conditions—really cold and windy.
A highlight for us was seeing so many friends and clients. Amazing how small the bird dog world is…but also heartening that it is filled with talented, fascinating, committed hunters and dog lovers from all over the country.
Many thanks to Mark and the crew of the NGWH for hosting such an outstanding event.