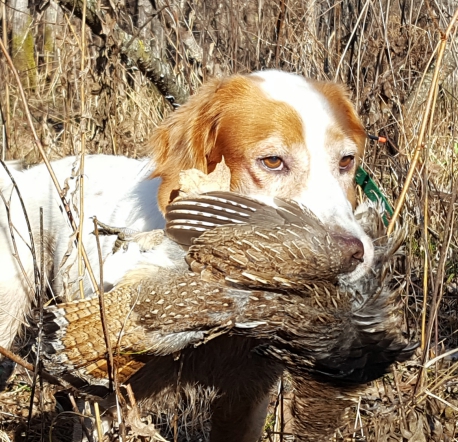 For the past 11 years, there's been an orange and white setter in our kennel full of tricolors. But not anymore.
Last week, Betsy and I made the painful but merciful decision for our beloved Northwoods Blue Ox, whom we affectionately called Oscar. What began as a seemingly innocuous skin condition quickly spread and became ferocious and incurable. Even the region's best specialists in canine pathology and dermatology couldn't help.
In every sense of the word, Betsy and I are bereft.
Oscar was whelped in the middle of the winter by Blue Silk, the spitting image of her famous dam, 4X CH/4X RU-CH Blue Streak. On the top side was another champion, Peace Dale Duke.
Oscar was handsome with an evenly masked, blocky head. As a young dog, his coloration was deep orange that slowly faded. He was powerfully built and always ran with a happy tail.
Even though Oscar was known mainly for his prowess in the woods, we loved him for his temperament and personality. He did everything with gusto but had an extremely calm center and a head full of sense. Oscar was sweet natured and had an incredible desire to please.
As a young dog
Oscar was a precocious pup. He hunted hard and pointed many grouse his first fall. One memorable grouse he pointed—and I flushed—five different times. I finally connected on the last try and he naturally retrieved the bird.
Oscar's first grouse trial was the West Branch Puppy Stake held near State College, PA. In a field of about 40 starters, he won third. He also placed in several derbies. In one Oklahoma derby stake, he convincingly won with five stone-cold-broke finds in the 30 minutes.
With his verve, speed, flash and bird-finding, Oscar would have been an outstanding field trial dog but the timing was off. Betsy and I didn't compete at the championship level anymore as our business turned to training and breeding.
As a bird dog
Oscar always hunted hard and fast but adapted to the cover. He was accurate and intense on point and was a strong bird finder with an exceptional nose. It didn't matter the state or terrain, Oscar found and pointed, sharp-tailed grouse, pheasants, Mearns quail and bobwhite quail, in addition to ruffed grouse and woodcock.
Oscar probably ranged farther than most grouse hunters would like but you couldn't lose him. If he didn't check in after a cast, I better start looking because he was on point. And when he was on point, he had the grouse pinned. With no training or expectations from me, Oscar naturally, and softly, retrieved birds to hand — no matter where they fell.
As a guide dog
I started guiding grouse hunts over Oscar when he was two and for the next eight seasons he was one of our best and most reliable. Day after day, year after year, hot or cold, wet or dry, he could be counted on to produce grouse for clients at Bowen Lodge. Oscar was strong and durable, too. Most of the grouse hunts were all morning or all afternoon affairs—which he easily managed.
My guiding clients and I have some great memories of Oscar's finds and some spectacular retrieves from impenetrable thickets.
As a sire
As good as Oscar was at bird finding, he was even better as a producer. And it didn't matter which dam—grouse champion Houston's Belle, her daughter Choice or Chardonnay. But it was a fortuitous match to Northwoods Chablis that was so successful that Betsy and I repeated it four times.
Some of his offspring had opportunities in field trials. Northwoods Highclass Kate (Barry Frieler) was named MN/WI Derby of the Year. Northwoods Axel (Ryan Flair) and Northwoods Rob Roy (Chris Bye) placed in several grouse derby stakes. Northwoods Parmigiano (Paul Hauge) and Northwoods Grits (Bob Senkler) competed and placed in both walking and horseback trials. Beasley (Mike Donovan) and Tesla (Tim and Monica Cunningham) won puppy stakes for their owners who had never even been to a field trial.
Other dogs, including Northwoods Camembert and Northwoods Brie, have been used by professional guides Bill Heig and Scott Berry, respectively. But most of his pups are owned by serious hunters—Knickerbocker (Bart Salisbury), Biscuit (Ryan Gould), Sweet Tea (Ken Balfanz) and Tana (Brad Gudenkauf) to name a few. Merimac's Blu Monday (Ben McKean) was a stellar south Georgia quail dog.
What Oscar really cared about
While Oscar excelled at whatever he did, he never really cared about all that. What Oscar cared about was Betsy and me—especially when we called his name and he spent Sundays in the house with us. He looked right at us with those warm brown eyes and it was clear what he was telling us: "Pet me. Just keep petting me."
At the time he died last week, we heard an evocative song on the radio.
You're in the arms of the angel.
~ Sarah McLachlan
RIP, sweet Oscar.