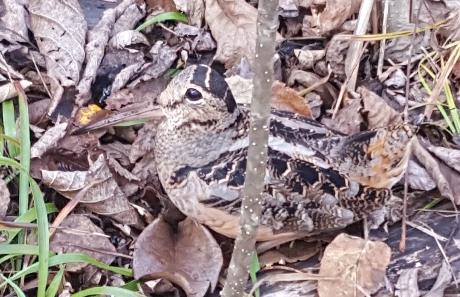 The annual spring woodcock banding event for Minnesota has been announced. Jerry and I know several banders and they are excited to get out in the woods with their dogs and contribute to the resource. Donna Dustin, wildlife biologist for the Minnesota DNR and coordinator of the event, called woodcock banding an "addictive pursuit."
Due the increased popularity of this worthwhile activity, an additional weekend has been added.
The first weekend, May 12 – 14, is a training weekend for new banders. May 19 – 21 is the second weekend and will be "a banding-only event, where we can gather together for camaraderie and spend as much time as we want in some of the best woodcock cover in the state," according to Donna.
Both weekends will be headquartered at Pineridge Grouse Camp, near Remer, Minnesota.
For more information, please visit:
http://www.pineridgegrousecamp.com/woodcock.html
Or contact:
Donna Dustin:
Jerry Havel:
On a side note, Amanda and Tom Dosen-Windorski are old pros at woodcock banding in Minnesota and this spring the couple was honored for their devotion and volunteering.
Amanda and Tom have bought several setters from Jerry and me, dogs that they bring into the woods each spring. Duke is their seasoned star but they just added a puppy, Tru, out of Blue Riptide x Northwoods Chablis.
http://www.dnr.state.mn.us/volunteering/meet.html
Comments