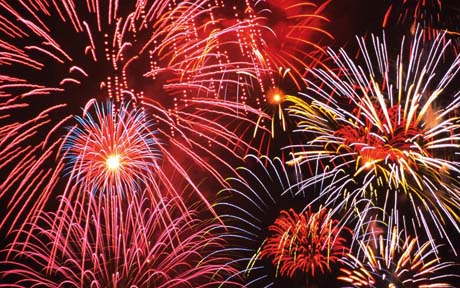 Saturday is the Fourth of July holiday when our nation officially celebrates independence from Great Britain. We observe it in many ways—from parades, festivals and barbeques to fabulous displays of fireworks. While Jerry and I love a good show, we believe firmly that puppies and fireworks don't mix.
We have heard many tragic stories of young dogs that were badly frightened—or worse—by loud fireworks. Puppies have become so scared that they panic, run away and are lost or hit by a vehicle. Others have chewed out of crates, sometimes breaking teeth and scratching until their paws are bloody.
Even if your young dog has been exposed to gunfire, you still need to be careful. Here are two easy precautions.
•    Put a crate in a protected, quiet place and put the puppy in it.
•    Provide background noise such as a TV or radio.
If your young dog will be exposed to fireworks, consider these actions.
•    Go about things normally during the fireworks. Act as though nothing special is going on.
•    Don't comfort the dog or give it any attention. Don't look at the dog; don't talk to it; don't touch it.
•    If your dog wants to be close to you, let it; but again, don't comfort it. Comfort will most likely reinforce the behavior and make things worse.
In fact, there's  no reason to tempt fate. Consider older dogs, too. Let me amend the caution.
Dogs and fireworks don't mix.
Photo at top by fortbragg.com.