Northwoods Bird Dogs is now producing the seventh generation of English setters and fifth generation of pointers. Detailed here are past-generation males that were vital contributors to the breeding program.

Blue Shaquille  Setter, whelped May 3, 2004,  White, Black, Tan & Ticked
Houston x Blue Silk  Pedigree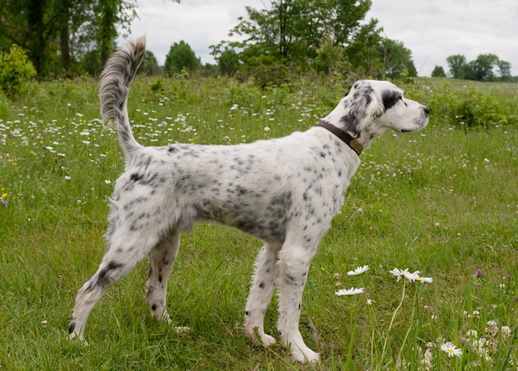 Blue Shaquille is as good a grouse dog as Betsy and Jerry have ever owned. He has a handsome, blocky head and weighs 54 lbs. Shaq has an excellent nose and a strong, powerful stride that always leads to birds. He has incredible endurance and his style and loftiness on point will be the same at the end of three hours as it was at the beginning. Around the kennel, he is extremely charismatic. Any visitor—no matter whether looking at puppies or pointers—ends up in front of Shaq's run. He has been bred to several females and, fortunately, his progeny have inherited his wonderful qualities.


Blue Chief  Setter, 1996 – 2008,  White, Black, Tan & Ticked
CH First Rate x Finder's Keeper  Pedigree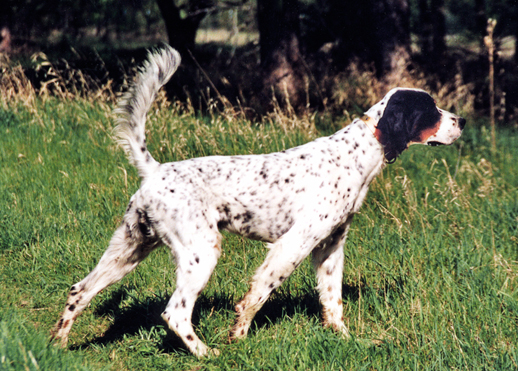 Blue Chief was a leggy, 55 lb.-male with a handsome, blocky, evenly masked head. He had uncanny, raw, bird-finding talent. He moved with a strong, smooth stride and a high head. He hunted hard but always handled and stood extremely tall on point. Chief naturally backed and retrieved with a soft mouth. He had a kind disposition and rarely barked.
Chief was used on guided ruffed grouse and woodcock hunts and was hunted on bobwhite quail, sharp-tailed grouse, Hungarian partridge and pheasants. He was never a field trial champion but he found birds in almost every stake—whether in Michigan, Minnesota, Pennsylvania or Wisconsin. He was named closest to the winner in several championships including the 2002 Grand National Grouse Championship.
Chief's legacy is in his progeny for he had the ability to pass on his incredible natural abilities. He sired almost 50 litters.


Blue Smoke  Setter, 1995 – 2007,  White, Black & Ticked
CH Spring Garden Tollway x Finder's Keeper  Pedigree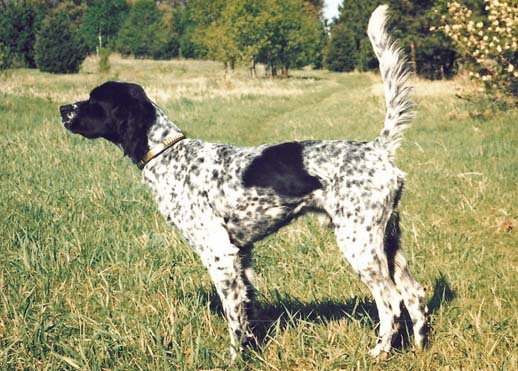 CH Blue Smoke was whelped in Jerry and Betsy's first litter out of Spring Garden Tollway and Finder's Keeper. He was black-and-white, heavily ticked and had a large body spot on his left side. His head was blocky and he had dark, intelligent eyes.
Smoke had an extremely accurate nose, perhaps the best Jerry and Betsy have bred. He d was a bull on birds and always pointed with intensity—his tail poker straight and head lofty.  Smoke never went around anything if he thought there was a bird straight through it. He always gave 110%.
Smoke's main competition in field trials was his litter sister, CH Blue Streak. He garnered his share of prestigious wins, though, beginning with the 2000 Minnesota Grouse Dog Championship. The following spring he won the Pennsylvania All Age with 50 entries and was named reserve dog at the 2001 Grand National Grouse and Woodcock Invitational. Smoke was also invited to the 2002 Grand National Grouse and Woodcock Invitational where he was named a day dog and asked to compete on the final day.
In summer 2001 Smoke developed arthritis in his right front ankle and subsequently was used sparingly. Due to his enthusiast, dynamic personality, he always remained a vital presence in the kennel.

Dashaway  Pointer, 1997 – 2010,  White, Liver & Ticked
CH Brooks Elhew Ranger x CH Dance Smartly  Pedigree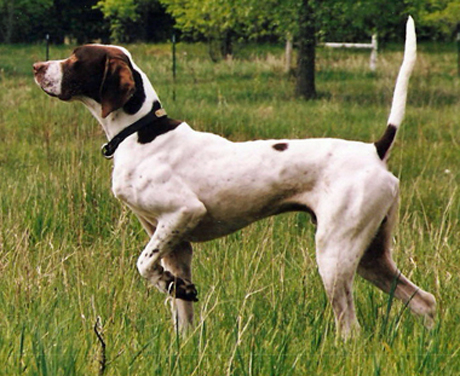 Dashaway was out of Jerry and Betsy's first grouse champion, Dance Smartly, and CH Brook's Elhew Ranger. Of the eight puppies in the litter, Jerry and Betsy chose to keep Dasher because he was liver-and-white and evenly marked like his dam.
Dasher also inherited the intelligence, athleticism and grace of Dancer. He was a strong, powerful dog and weighed 58 lbs. He was a talented wild bird dog with an outstanding nose that excelled in finding and handling ruffed grouse. He was naturally staunch, backed and retrieved. Dasher had endless stamina and, amazingly, kept himself in excellent shape without any real conditioning.
Dasher had some field trial wins but his forte was as a valued member of Jerry's guide string. In fact, Dasher was on the truck when Jerry clocked the highest flush count of his life.
Dasher was a treasured house pet. He was frisky and playful, intuitive, and his temperament was kind and lovable.
Dasher was bred just a handful of times. His litter by Fallset Fate produced Northwoods Prancer, a beautiful, talented orange-and-white female that Jerry and Betsy kept. Dasher now appears as the grand-sire of Northwoods Vixen, an orange-and-white female out of Prancer and CH Westfall's Black Ice.

Houston  Setter,  1982 – 1991,  White, Black, Tan & Ticked
Spring Garden Streak x Summer and Smoke  Pedigree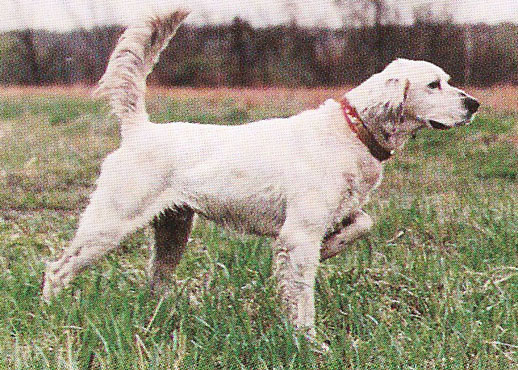 Houston was an extraordinary gun dog owned by Paul Hauge of Centuria, Wisconsin. He possessed all the trademarks Paul liked:  strong bird finder, extreme loftiness on point and a smooth, effortless gait. In addition, Houston was tough; he could take training and just got better and better.
Houston was out of Leroy Peterson's female Summer and Smoke and Jack LeClair's Spring Garden Streak. Houston had a solid white body and a tri-color patch on the right side of his head. He weighed about 48 pounds and was physically strong with a solid build, medium leg, medium coupling and a blocky head.  He naturally backed and retrieved.
Houston was bred sparingly and mostly to local hunting dogs during his lifetime. Before Houston's death, Paul had the foresight to collect and freeze Houston's semen. Every litter by his frozen semen has produced outstanding hunting dogs and field trial winners. One of Houston's best progeny was 2X CH / 4X RU-CH Houston's Belle.


Spring Garden Tollway  Setter, 1986 – 2001,  White, Black & Ticked
CH Trail's End Tomoka x Spring Garden Carrie  Pedigree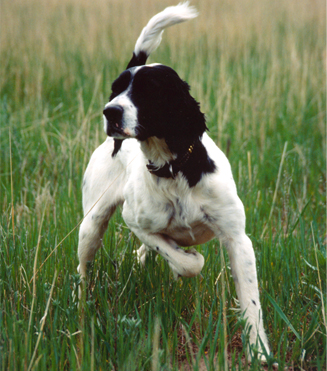 Tollway was a specimen. His evenly marked black-and-white head was perfectly shaped with a sharp stop and his dark eyes were keen with intelligence. He had endurance, ideal conformation and extreme desire to find game. Tollway was a grandson of hall-of-fame setter, CH Tomoka. (Interestingly, Tollway's dam was a litter sister to Houston.