Northwoods Bird Dogs is now producing the seventh generation of English setters and fifth generation of pointers. Detailed here are past-generation females that were vital contributors to the breeding program.

Houston's Belle's Choice  Setter, whelped January 16, 2005,  White, Black, Tan & Ticked
Gusty Blue x CH Houston's Belle  Pedigree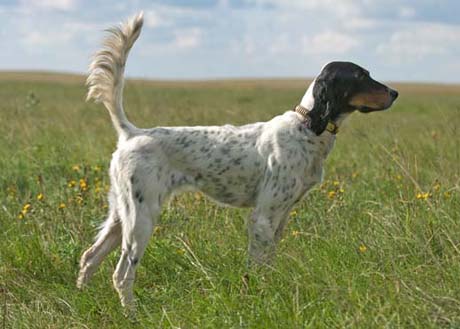 Choice is an athletic, 42-lb., dog with an even mask. She has beautiful style in motion—smooth and strong. Choice points with loftiness and is a natural backer. She has an extensive list of field trial wins but, more importantly, is an excellent grouse hunting dog.  She has extensive experience on grouse—whether hunting with her owner or on Jerry's guide string. She is a sweetheart around the kennel and gets along extremely well with people and her kennel mates. Choice has been bred several times and is a superb producer.

Northwoods Prancer  Pointer, whelped March 22, 2008,  White, Orange & Ticked
Dashaway x Fallset Fate  Pedigree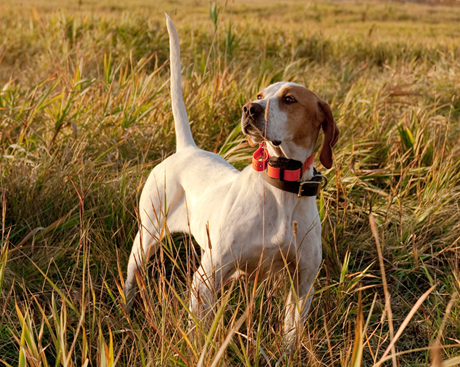 Prancer is a beautiful, 45-lb., dog with a beautiful head and an even mask. She is intelligent and has a wonderful disposition. Prancer has a great nose, naturally backs and retrieves to hand. She is impressive to watch with her driving, powerful stride. Prancer is a focused hunter but hunts at a moderate range and handles easily—perfect qualities for a member of Jerry's grouse-guiding string. She is out of Dashaway x Fallset Fate and so comes by her grouse-finding ability naturally. Prancer's first litter by CH Westfall's Black Ice produced eight exceptional females, including Northwoods Vixen, a puppy Jerry and Betsy kept.

Blue Silk  Setter, 1999 – 2013,  White, Black & Ticked
CH First Rate x CH Blue Streak  Pedigree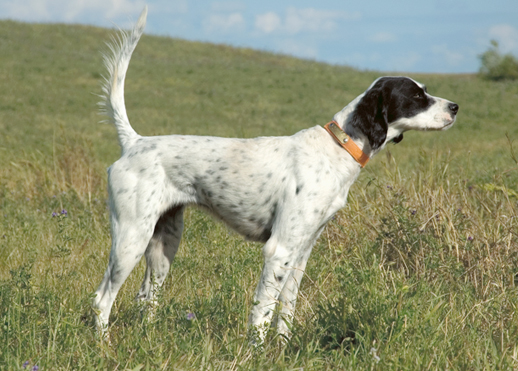 Silk was a smaller dog at 36 lbs., but that size belied her strength. Silk was out of 4XCH/4XRU-CH Blue Streak and CH First Rate, a multiple champion in horseback field trials. From both she inherited uncommon stamina and a tenacious application but had her own sweet disposition and even temperament. Similar to her uncle, CH Blue Smoke, Silk had a very accurate nose which allowed her to pin birds with precision. She placed in several field trials, one time even besting her famous dam. In 2001, Silk won the Minnesota/Wisconsin Derby of the Year. For several years, she was a first-string member of the grouse-guiding team.
Throughout her life, Jerry and Betsy co-owned Silk with Paul Hauge. Even though she lived at Northwoods Bird Dogs, Paul was always involved in her training and breeding and was exceptionally proud of her.
Silk was bred just three times. Her first litter was by Paul's great dog, Houston, using frozen semen. Next, Jerry and Betsy chose a talented son of Houston, I'm Houston's Image, and for her last litter, they went to the East Coast for CH Peace Dale Duke. She was an exceptional producer of both grouse dogs and field trial champions. Silk whelped two excellent sires, Blue Shaquille and Northwoods Blue Ox, in addition to field trial champions, 2XCH/RU-CH I'm Blue Gert and CH Satin From Silk.

Blue Streak  Setter, 1995 – 2006,  4X CH / 4X RU-CH,  White, Black & Ticked
Spring Garden Tollway x Finder's Keeper  Pedigree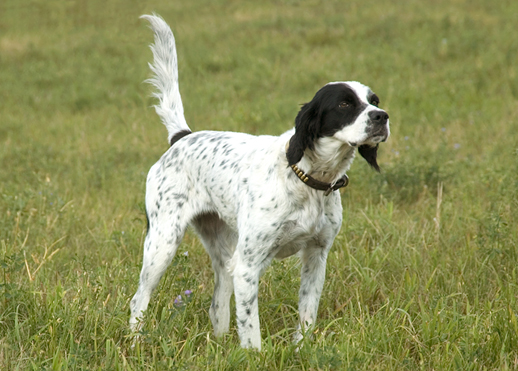 CH Blue Streak was whelped in Jerry and Betsy's first litter out of Spring Garden Tollway and Finder's Keeper. She was a 35-lb. black-and-white spitfire that lived for the hunt. She had endless stamina and an uncommon level of focus when hunting. She was always sure and intense on point and no cover, whether in Minnesota and the Dakotas or Pennsylvania and Texas, ever deterred her.
Streak was aptly named for when she started winning, she was untouchable. The streak began in 2000 with a first place win of the Region 19 Walking Shooting Dog Championship followed by first place wins in her next four trials.
In 2001, she was named runner-up in the Grand National Grouse & Woodcock Invitational, National Amateur Grouse Championship and  Minnesota Grouse Dog Championship. She then won the Wisconsin Cover Dog Championship and the Pennsylvania Grouse Championship.
Due to those stellar accomplishments, Streak won the 2002 Michael Seminatore English Setter Award and the William Harnden Foster Award. That fall, she won the Minnesota Grouse Dog Championship.
Streak's final championship placement was unforgettable. In the first brace of the first day of the 2005 Grand National Grouse Championship, she laid down a savvy, hard-hunting, forward race and had two grouse finds and one woodcock find. At the age of 10, Streak was named runner-up champion over a field of 81 younger entries.
In addition to her field trial accomplishments, Jerry used Streak in his guide string. She is famous at Bowen Lodge for leading guests on spectacular hunts into unknown territory.
Streak was bred twice. Her daughter Blue Silk produced two outstanding sons, Blue Shaquille and Northwoods Blue Ox. In fact, Betsy and Jerry are whelping litters that have Streak as a great-great-grand-dam.
Jerry and Betsy will always be on the lookout for a competitive, fearless, black-and-white puppy…..one that just might be small in size.

Dance Smartly  Pointer, 1991 – 1999,  2X CH,  White, Liver & Ticked
CH Northern Dancer x CH Vanidestine's Rail Lady  Pedigree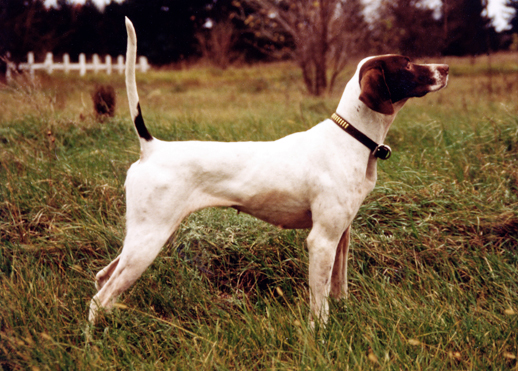 CH Dance Smartly was Jerry and Betsy's first champion and will forever be revered as a special dog. She was liver-and-white and beautifully marked with an even mask. Her body was white with the exception of a spot at the base of her tail. Dancer was intelligent and had a wonderful disposition. She loved people and couldn't wag her tail hard enough when anyone got within petting distance.
Dancer moved with a remarkable grace that belied her strength and had incredible bird-finding ability. But perhaps she was most stunning on point—completely composed, nose in the air, eyes on fire.
Dancer came by her talents naturally. Her sire, CH Northern Dancer, and dam, CH Vanidestine's Rail Lady, were both multiple grouse champions.
For a span of three years, Dancer dominated the grouse field trial circuit. She was invited to the Grand National Grouse and Woodcock Invitational three times. She was also named Minnesota/Wisconsin Cover Shooting Dog of the Year in 1994, 1995 and 1996.
Her major wins included runner-up placements in the 1993 Wisconsin Woodcock Classic and first place in 1994 and 1995 before the trial became a championship. She also won its inaugural running as a championship in 1996. She won the 1995 Minnesota Grouse Championship to her sire Northern Dancer's runner-up placement.
An injury in 1997 forced Dancer's retirement from field trial competition but she reveled in her status as a cosseted pet. She was bred three times. Her first litter by CH Brook's Elhew Ranger was outstanding for that produced, among others, Dashaway, predecessor to Northwoods Prancer and Northwoods Vixen.

Houston's Belle   Setter, 2001 – 2011,  2X CH / 4X RU-CH,  White, Black, Tan & Ticked
Houston x Forest Ridge Jewel  Pedigree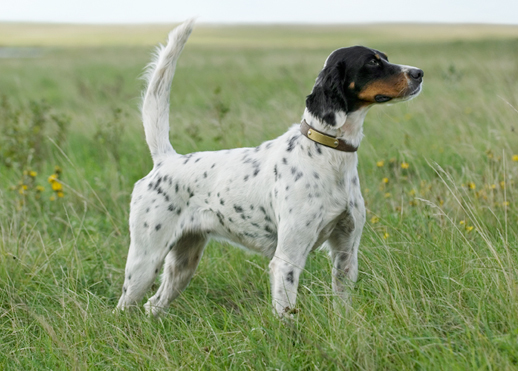 CH Houston's Belle was bred and owned by Paul Hauge of Centuria, Wisconsin, and was the essence of his 30-year setter bloodline. Paul used frozen semen from Houston (see Houston) on his line-bred Tekoa Mountain Sunrise female, Forest Ridge Jewel. Belle epitomized such fine Houston qualities as smooth gait, lofty style on point, strong bird-finding and natural backing.
Paul recognized Belle's talent early and entrusted her to Jerry for training when she was 15 months old.
Belle had an uncanny internal compass and even though she took in a lot of ground, she always handled. Belle easily adapted to the cover—whether in the grouse woods or on the prairie—and became a versatile winner. She placed in cover dog stakes in Minnesota, Wisconsin, Michigan and Pennsylvania, and in wild bird horseback trials.
Beginning in 2005, Belle was among the top point-earning grouse dogs in the country for three years running. She won two championships in 2005, Wisconsin Cover Dog and Minnesota Grouse Dog Championship. In 2006, she won runner-up in the Grand National Grouse and Woodcock Invitational Championship and was runner-up in both the Minnesota Grouse Dog and the Lake States Grouse Dog Championships. Her final win was in 2007 when, again, she was runner-up at the Minnesota Grouse Dog Championship.
No other dog has placed in the Minnesota Grouse Dog Championship three times. Belle finished her career with two championships and four runner-up championships.
Belle was bred five times to five different sires. Her first litter by Gusty Blue produced Houston's Belle's Choice, a talented grouse dog and excellent producer herself.