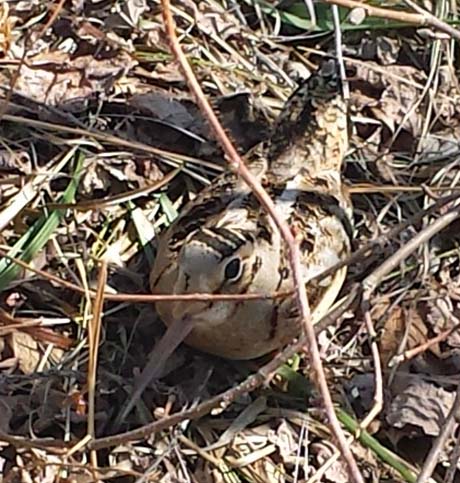 Tom Windorski of Grand Rapids, Minnesota, is one of our favorite clients. He's an upbeat guy with a big heart, ready smile and a twinkle in his eye. He has a very nice family—wife Amanda and daughters Emily and Samantha—and usually an English setter or two. According to Tom, their newest dog might be one of their best. Duke is out of the 2013 breeding (and last) of our successful nick, Blue Shaquille x Houston's Belle's Choice.
Tom is a passionate hunter of ruffed grouse, woodcock and prairie birds but he also gives back to the sport through, among other ways, woodcock banding. Tom and his bird dogs have spent many springs out in the woods. As he wrote, "It's a good time and great way to get the dogs, and owners, out in the cover to knock off the winter rust!"
Tom passed along an email from Donna Dustin, Volunteer Woodcock Banding Coordinator, with information for both new and returning banders.
"Hello Woodcock Banders!
"What better way to spend a snowy, windy Sunday than to dream about spring in the woods! I'm looking forward to our Banding Program this year and I hope that many of you will be a part of it.
"We will be having another Woodcock Banders' Training Session at Pineridge Grouse Camp in Remer (Minnesota) on May 13-15, 2016. The format will be similar to past years, with a few new things planned, including banding some captive birds so that everyone will be guaranteed the chance to handle birds and apply bands, even if they aren't actual woodcock.
"Please contact Jerry Havel (218-301-6083 or ) to make arrangements for attending this fun and educational weekend. Experienced banders are encouraged to attend along with new folks. If you are a new bander we will train you and certify your dog as steady to wing and ready for banding.
"Even if you aren't sure whether you or your dog are ready, it is still worthwhile for both of you to come to this training. You will get the opportunity to search for and band birds with experienced banding teams. This experience is required before you can be issued a permit, and it will be very helpful to you as you finish your own dog's training. It is also a great opportunity to get training advice and help from some very skilled dog trainers."
For more details:  www.pineridgegrousecamp.com/woodcock.html
For further information:
Donna Dustin
Volunteer Woodcock Banding Coordinator
25480 East Cozy Cove Rd
Detroit Lakes, MN 56501
218-849-2148