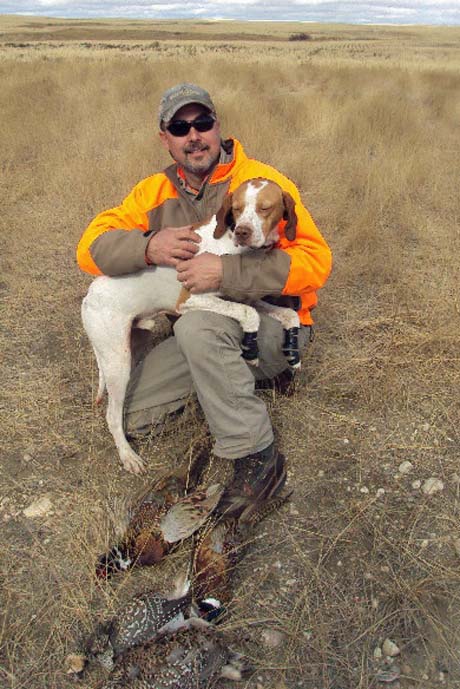 Some dogs are special. Whatever it is about them—a look in their eyes, a personality trait, their talent in the field—they call us to them like a siren. And some dogs are even more rare; some become soul mates.
Zeus was that sort of dog for Joe.
Jerry and I first met Joe in November 2011. Even though Joe already owned a German short-haired pointer, he was in the market for a second bird dog and Frank LaNasa recommended us to him. It was a long visit. Jerry showed Zeus in the field and we all petted and played with Zeus in the kennel office.
Joe bought Zeus and immediately started calling him "Super Dog." We began frequent and spirited communications. Here are the highlights.
December 27, 2011:  first email
Zeus settled in right away eating dinner last night. My wife gave him a blanket to lay on. I had visions of him eating it but he didn't ruffle it at all when I checked on him this morning. She told me I could get rid of the German dog and get another pointer if they are all as nice as Zeus.
February 5, 2012:  first photo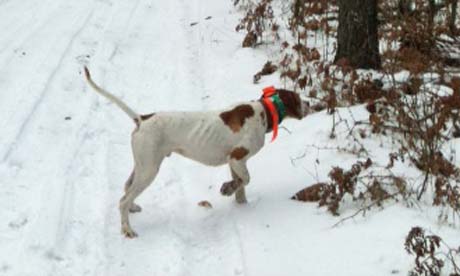 September 23, 2012:  mid-season email
Hunted around projects this weekend. I had to pull him off the wood cock and switch to grouse. He did a water retrieve on a woodcock. I had more birds per hour than when I had a seasoned short hair running the same ground in good years. Heading to Montana for 10 days on October 6.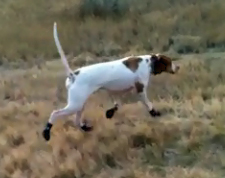 October 14, 2012:  Zeus in boots
Zeus ran well in Montana. Check out the very short clip of the best dog in the world. Looking for a second dog. I had to put down the shorthair late spring. Sad day.
(I love this video. It shows a very tentative Zeus in his new boots. In the background, Joe says, "Zeus, show us your boots!")
October 24, 2012:  last email
I lost the dog of a lifetime on 10-23-12. He was the most special dog to me as if we were matched by God.
The rancher that watches the land for my friend came driving down to see who was parked at the end. He was looking out the window to see me walking down the field and the birds flushing by the passing truck. This caused him to veer to the left side of the road edge where Zeus was on point. The rancher did not notice my dog.
I placed my best dog, and a big chunk of my heart, on the high hill on the ranch. A cross made of barbed wire marks the spot. He was my 16th bird dog and he took my heart with him. Not sure if I can lend my heart to another bird dog again.
* * * * * * *
Joe, Jerry and I know you'll never forget Zeus but, hopefully, the raw anguish and pain will eventually subside. And if it does, we hope you'll remember another of your emails:
The problem with a good dog is you will want another one.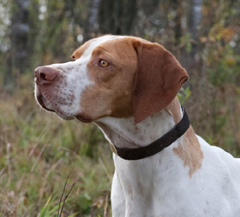 …Grieve not,
nor speak of me with tears,
but laugh and talk of me
as if I were beside you…
I loved you so —
'twas Heaven here with you.
~ Isla Paschal Richardson
Northwoods Zeus photo at right above by Chris Mathan, The Sportsman's Cabinet.