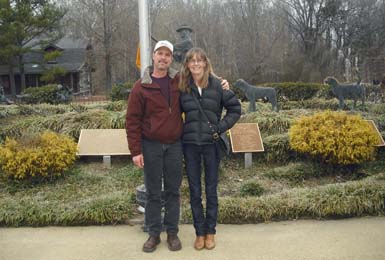 Since Jerry and I have our training site in the heart of bird dog country, we thought it completely appropriate to take a drive to Grand Junction and tour the National Bird Dog Museum.
It's hard to miss. It's on the main highway through town and if the multicolor flags don't grab your attention, a huge bronze depiction of hunter, dogs and a covey rise of quail definitely will. Two statues of retrievers grace the walkway and, farther along , we found a gorgeous sculpture by Bob Wehle of CH Elhew Snakefoot. 
The museum is under the auspices of the nonprofit National Bird Dog Foundation and the same  building also houses the National Retriever Museum, the Field Trial Hall of Fame and the Wildlife Heritage Center. Our timing was good. Within a couple of days, the National Championship would begin at the nearby Ames Plantation and the newest members of the Hall of Fame would be inducted. The place was abuzz!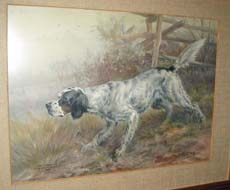 Joe Cumming
It is both thrilling and a bit humbling to see photographs and paintings of famous dogs and handlers from as far back as the late 1800s. I wasn't surprised that Jerry could rattle off many of the dog names.
Our venue—cover dog field trials—was represented with a small display. How gratifying for Jerry and me to find CH Blue Streak and CH Houston's Belle among the placements of the Grand National Grouse & Woodcock Invitational and the Grand National Grouse Championship.
We had to stop one more place before we left Grand Junction. In an unused school building along the main street is the current home of Wilson Dunn's Sporting Goods. Mr. Dunn, age 92, is still behind the counter and still ringing up sales on his old-fashioned adding machine. We had a blast looking through his training equipment, supplies, clothing and other gear…and even picking out a few to buy.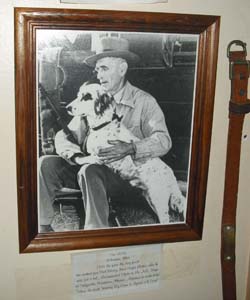 Er Shelly at Wilson Dunn's shop
Mr. Dunn then invited us to his personal bird dog shrine in the next room. He was the owner of Dunn's Fearless Bud, a dog Bob Wehle outcrossed to with excellent results. Wilson sat in his rocking chair and shared some amazing stories about the old days. He spoke proudly of Bud:  "My dog was the last one to win the National Championship with finds on wild birds."
Ever the salesman, Wilson eyed me up and, in his genteel southern drawl, said, "Honey, you need some chaps? I've got some over there that would fit you perfectly—Women's Tall Slender."
He was right…and we walked out of his shop with another purchase.