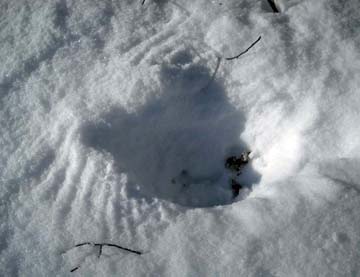 While Betsy and I were out walking our Labrador retriever May today, we flushed a grouse from its snow roost.
A snow roost is a place grouse fly into without leaving a trail for predators to follow. A grouse also conserves body heat by burying itself in snow. Though there currently isn't enough soft snow for a grouse to be completely submerged, it can be partly concealed by several inches.   
A grouse flushed from this roost on the south side of some hazel brush next to a birch tree.