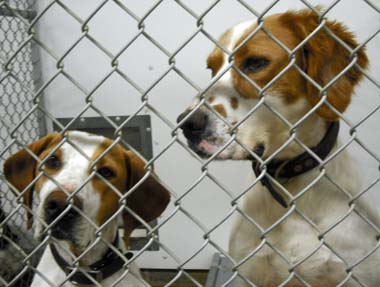 Northwoods Prancer and Northwoods Blue Ox
When Jerry and I designed our kennel building, we thought long and hard about the size of the runs—both inside and outside. Since our goal was a small yet efficient space, we wanted to keep the number of total runs to 20 but how big to make each run was our conundrum.
After many drawings, lengthy discussions and permutations, we ultimately settled on 16 regular-size runs at 4' in width and four larger runs at 6'. The larger spaces would be for whelping and raising litters.
An unforeseen benefit has been the opportunity to keep two dogs together in one run. The dogs seem to enjoy it and, in fact, become pals. (Jill and Shaq are currently together as are Prancer and Oscar.)  They sniff and nuzzle each other, roll around in their runs and play together with their chew toys. Jerry is careful who gets kenneled together and there is always one male and one female. He also considers size, age and temperament.
Jerry and I walk down to the kennel about 9:00 pm each evening to make one final check and to give all dogs a nightly biscuit. After treats are given in the larger runs, the two pals drink together out of their water bucket, curl up next to each other on the bed and settle in for the night.