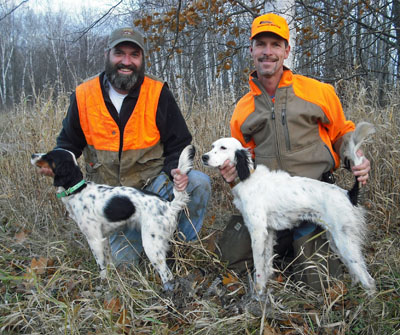 Ben, Addie, Jerry, Chablis and grouse
There are grouse hunting days and then there are those special days when everything just goes right. November 2 was one to remember.
Ben McKean is a friend from Minnetonka who was able to slip away from a day in the studio of his commercial photography business. We met at our kennel around mid morning, loaded dogs and packed a lunch of bread, cheese and apples in my truck and were soon off.
The weather was perfect—clear skies with slight westerly breeze and
temperature in the 40s. The forest was damp from previous rains which
also meant plenty of water in the woods.  
Ben and his English setter, Merrimac's Adda Girl, were the first to put
on a show. Addie literally tore up the cover searching for grouse. Five
times she pointed grouse in an hour and a half. Two times she relocated
perfectly to pin running birds. Several times we fired and finally
managed to connect on the last bird as reward for her outstanding
efforts.
Next on the line was our veteran, Blue Silk, also an English setter,
braced with her 10-month-old granddaughter, Northwoods Chablis. We ran
this pair for two, action-packed hours. Several times Silk pointed
grouse and was backed beautifully by Chablis. Twice Chablis was found
on point and stood until we flushed the grouse in front of her.
Together, Chablis and Silk worked running grouse, following the scent
cone in lofty walking points until pinning the bird.
Because I winged Silk's final point, the bird ran for about 100 yards
and then buried itself in swamp grass. Both dogs searched hard for the
hiding grouse until, finally, young Chablis dug out the bird and
retrieved it to hand.  
It was a day full of smiles and one that, for both Ben and me, won't soon be forgotten.